We are taking a break from the "fashion and style through the decades" series to do a 3 weeks "how to dress vintage" series....enjoy!

How to dress Vintage:Best practice


Choose items from a variety of eras.
Vintage clothing, although there is no firm definition, is generally acknowledged as any clothing or accessory that was made in the 1980's or earlier. Therefore, there is a huge selection of clothes to choose from in the 'vintage' category. Although it may be normal to gravitate towards one particular era, try mixing up your wardrobe with a variety of clothing periods. Wearing pieces that are all from the same era can make it look like you are in costume, rather than like you have a love for vintage.
The 1900's were known for voluminous lace gowns, corsets, and collared tops.
The 1910's brought about the trench coat and lace-up boots for women.
The 1920's were famous for flapper and slip dresses in addition to glamorous beaded fascinators.
The 1930's made wide brimmed hats and fur collars popular.
The 1940's are known for cigarette-style pants, pastel sweaters, and halter tops.
The 1950's made circle and poodle skirts, leather jackets, and unitards popular.
The 1960's were known for bringing bell bottom jeans, paisley shirts, and peace signs into fashion.
The 1970's brought denim and neutral tones into the spotlight, alongside pantsuits and leg warmers.
The 1980's were famous for neon colors, shoulder pads, frilly and lacy tops, and tunics with leggings.
1910 blouse
1920 skirt
1930 shoe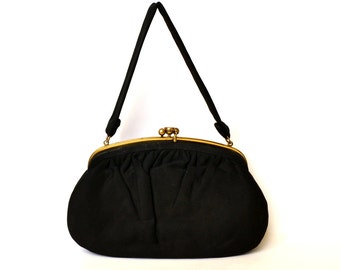 1940 bag
1950 Jewellery
1960 Capri pants
1970 dresses
1980 multicolored beaded jacket
1990 neon
Mix and match vintage with modern.
Although there are a select few people who can pull off an entirely vintage outfit, in order to keep your look chic rather than costume-y, it is important to keep your outfit about 50/50 modern and vintage. An easy way to think about it is: if you're wearing a vintage top, throw on a pair of skinny jeans or modern pants. Vintage bottoms? Add a current shirt or sweater to balance the look. Dresses can be made more modern with the addition of modern accessories and hair styles.
Dressing in vintage doesn't always have to be big pieces; wear a vintage scarf or piece of jewelry with an entirely modern outfit if you want.
When you get more comfortable in vintage, you may want to add more and more of it to your ensembles.
Avoid wearing vintage in poor condition. Just because a piece is vintage, doesn't mean that it's in good condition (or style) to wear. If your vintage piece has any visible damage including stains, tears, or missing parts, it should be avoided until brought to a tailor or seamstress. Have all your vintage pieces dry-cleaned prior to wearing, as they often come with smells and wrinkles that are hard to get out on your own at home.
1910 ball gown
Consider buying vintage-inspired pieces.
Although not nearly as earth-friendly and story-filled, there are many stores that offer a selection of vintage-inspired but modern-made clothing pieces. These are a great alternative to true vintage, as you don't have to worry so much about damaging them, they come in perfect condition, and they are already in a size guaranteed to fit you.
Culled from wikihow (www.wikihow.com)
Photo Credit: www.google.com